If you have been following along with either these blog posts or my weekly videos (click here to see my most recent post), the "list it and win" days are winding down in the South Bay Real Estate market.  In fact, it's something that has been trending since early summer (here's that specific video if you want to get the background story).  But with any changing market, there is a new opportunity, and this one favors buyers.  For the last 6 years it's been a seller's market, but now the buyers are starting to get their turn.  I write this with some hesitancy because inventory is still pretty tight, and prices are still hovering at all time highs.  But what I am seeing for the patient buyers out there is an opportunity to take advantage of sellers experiencing "market fatigue."
What I am seeing for the patient buyers out there is an opportunity to take advantage of sellers experiencing "market fatigue."
Market Fatigue
In the last half of 2018, many sellers listed their home with the expectation that they would get the price they wanted, if not over what they wanted, and close the sale in less than 2 months.  For the past several years that has been the case.  But those days are mostly behind us except for in a few select markets and entry level price points.  Instead, for homes that have lingered on the market, sellers are growing tired of having to clean and then leave for open houses on the weekend, rushing out of the house for showing appointments, and tired of wondering "Why hasn't my home sold yet?"  This can be an agonizing time for a seller.  In same cases, the home is simply over- priced.  But for many of the homes on the market, the reality is it's going to take longer to sell your home because interest rates are ticking up, and more buyers are priced out of the market as a result.
This is where the opportunity lies.  If you are a buyer that is ready to move to a new property, it's time to get serious.  Instead of worrying about insulting a seller with an offer below asking, look at it as though you may be helping a seller move on with their life.  So how do you identify a home that is ripe for the picking?  I look at homes that have crossed over the average days on market statistic in each particular micro market.  For instance, in Valmonte, homes are averaging 49 days on the market before going into escrow.  If you are looking at home that has been on the market for 70 days, it's highly unlikely that it's going to sell for the asking price.  I encourage my buyers to beat the seller to the price drop.  In most cases, the hardest time to pick up a great deal is when the seller just dropped the price, unless of course the new price is what you are willing to pay.  In many cases, the seller drops the price $50k when it should be $100k, but in their mind they just lowered their price more than they wanted to, so they are less likely to consider lower offer on top of that.  I tell my sellers on a home that is around $1.5m, if you are $50,000 off in price, you'll likely still get an offer.  If you are $100,000 off you'll know because you'll have limited showing activity and no or lowball offers.
To illustrate the point, here are the top 3 deals of the 4th Quarter where the buyer found the opportunity in the shifting market.
711 30th St, Hermosa Beach 90254 | 4 bd, 3 ba, 3,329 sq ft, ocean views – Original Price: $2,799,000; Sold Price: $2,375,000; 94 Days on Market, 2 price drops, over 15% discount from original list price and 5% reduction from last list price.
74 Eastfield Dr, Rolling Hills 90274 | 4 bd, 6 ba, 4,000 sq ft, built 2001 – Original Price: $3,925,000; Sold Price: $3,100,000; 267 Days on Market, 5 price drops, 21% discount from original list price and 9% reductions from last list price.
36 SEA COVE Dr, Rancho Palos Verdes 90275 | 2 bd, 2 ba, 2,000 sq ft, one acre on the bluff – Original Price: $4,200,000; Sold Price: $3,030,000; 64 Days on Market, 1 price drop, 28% discount from original list price and 13% reduction from last list price.  (This was listed and sold by discount broker Purple Bricks.  The seller saved on commission fees, but lost big time equity for a one acre lot on the bluff near Terranea.  Moral of the story: you get what you pay for!)
All three of these sales were on the higher end price wise, but when you consider the average home in the South Bay is over $1,000,000, these homes don't look so outrageously expensive when you consider what you are getting.  The bad news for bargain hunters looking under the $1m mark, fewer of those homes saw double digit price drops, but don't be afraid to shoot for a 5-7% discount, especially if the Days on Market are ticking up.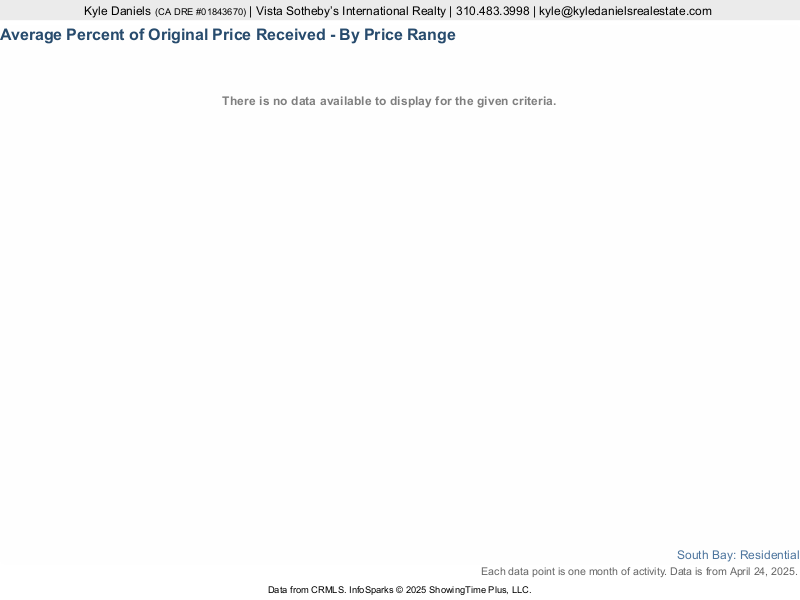 What if you are a seller?
For those currently on the market or thinking of selling in 2019, you need to be extremely price sensitive.  As I mentioned before, if you are seeing limited activity on your home after 45-60 days, it may be time to drop the price.  If you are trying to figure out how to price your home, unless the house commands a huge premium over the market averages, I would encourage all sellers to price your home as close to the perceived market rate for similar homes to be competitive.  If you want to sell it fast, you better be the best deal in your neighborhood.
I look forward to bringing you my 2018 Year in Review and 2019 Market Forecast in early 2019, so please check back soon to get a more detailed breakdown of where we were, and where we are going in South Bay Real Estate.
All the best, Kyle