Real estate on "the Hill" has been gangbusters since last summer.  Nowhere is this more pronounced than in the Valmonte neighborhood of Palos Verdes Estates.  Every sale in the last 4 months, with the exception of one that the listing agent represented both the buyer and seller, has seen multiple offers, with one as many as 31 offers!  Now if you are seller, I don't want you to take away that every home is going to have 31 offers, but 5-10 offers is not unreasonable if you price your home right.
Here are some market indicators that I like to follow to see the health of a neighborhood in terms of the real estate market:
Active listings: 2
In Escrow: 9
Month's Supply: 0.15 (current rate based on monthly quarterly sales average)
Ave Days on Market: 16 (quarterly rate trending down since March 2020)
Closed price/Original List price (3 month moving average): 100.8% (trending up)
12 month Average Median Price: $1.8m (trending up since May 2020)
As for inventory levels, this chart tells it best (this is based on the quarterly average through March 31st, 2021):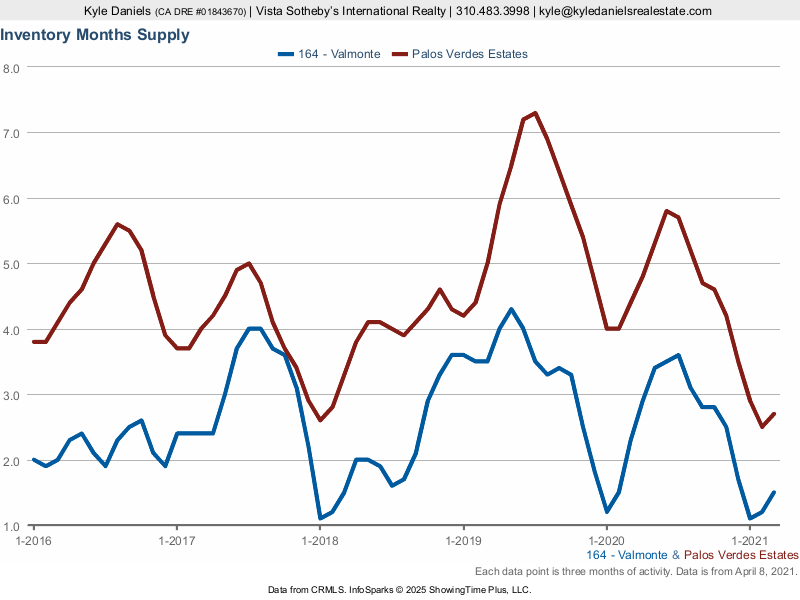 So to say it's a seller's market would be an understatement.  Right now, the sellers are calling the shots, and with few options for people looking for a home, buyers must comply.  I don't expect this to change until we see a significant increase in the number of homes for sale.