If you want excitement, watch the stock market
With the first month of 2016 in the books, I want to give a brief market update for those of you keeping an eye on things.  In general, after 6 closed sales in December, January was a slow month.  2 homes closed escrow; 2 homes came on the market, both on the same street; 3 more accepted offers; and now a lonely 5 remain for sale.  So what?  Good question.  Certainly the stock market has been more exciting, but what all of these numbers point to is that it is high time to be a home seller in Valmonte.  I personally know of at least 3 people seriously looking to move into Valmonte, and I'm 100% sure those aren't the only 3 people either.  Add to the mix interest rates under 4% and you end up with some stiff competition for well priced homes when they hit the market.
The low inventory coupled with pent up demand for move-in ready homes is a clear indicator that the local housing market in Valmonte is far from balanced.  The current absorption rate, also known as months supply, is down to a little over one month.  When you apply a 12 month rolling average, it gets a little better with 2 months of supply.  However, in comparison to a year ago, there was a 4 month supply, and in 2010, the recent market bottom, there was an 8 month supply.  This isn't good news if you are looking for a home in Valmonte, especially considering the median home price is $2 million.  But if you are a seller, it doesn't get much better than this.  With lower than normal competition, and low interest rates, the seller is in the driver's seat.  Price your house reasonably, and I can promise you that buyers will come, probably in droves; especially if your target price is around $1.5m or less.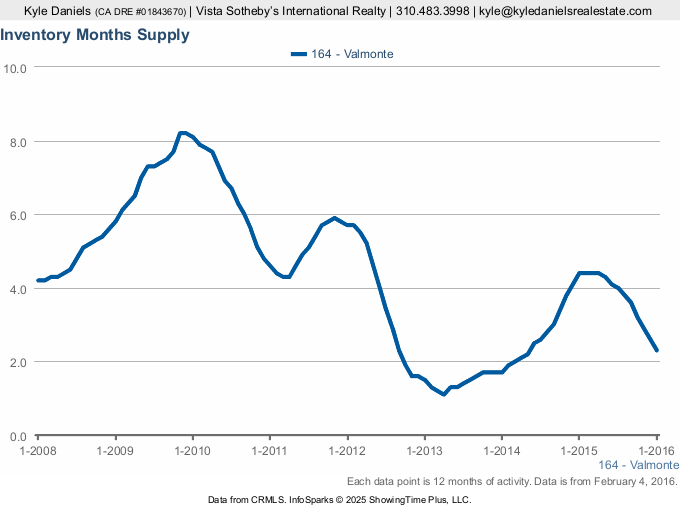 January by the numbers
Closed Sales (2): 4033 Via Valmonte – $1.12m ($474/foot); 4021 Via Nivel $1.425m ($642/foot)
In Escrow (5): 2737 Via la Selva ($1.495m); 2815 Via la Selva ($2,495m); 2921 Via la Selva ($3.295m); 300 Via Alcance ($1.689m); 3025 PV Drive N ($1.987m)
On the market: 5 listings – call for the current list.